Your smartphone can do some pretty unusual things that you've probably never even considered. Here are some of the most amazing, out-there tasks your smartphone can help you conquer.
Monitor your heart rate
Some newer smartphones, such as the
Samsung Galaxy S® 6
, have integrated heart rate monitors. But there are also apps that work with a number of smartphones that allow you to measure your heart rate. That includes
Instant Heart Rate
and
Runtastic Heart Rate
(both available for Android and iOS)—which can
take your workout to the next level
.
I use my smartphone every day, often in the first few minutes I wake up. It's not because I'm addicted (ok, maybe I am a little bit addicted) – it's because my phone is so darn useful. It tells me
the weather
. It helps me
avoid and navigate around traffic jams
. It helps me
keep in touch
with my friends.
Prevent drunk driving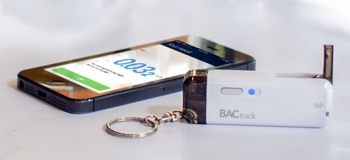 Imagine you're at a house party with a couple close friends. You've all shared a glass or two of wine. You feel like you're probably OK to drive, but it'd be far more responsible to know for sure.
That's where the new Bluetooth BACtrack Vio Smartphone Breathlyzer comes in. The compact keychain device measures the alcohol present on your breath in just 5 seconds, wirelessly sending your BAC reading to your iOS or Android smartphone. An included app will predict how long it'll take for your levels to return to 0%, helping you plan whether to call a cab or just "wait it out."
The BACtrack Vio is available
directly from BACtrack
and
at Amazon.com for just $49.99
.
Measure your muscles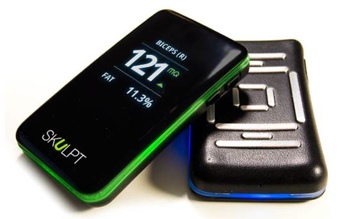 As any health expert will tell you, your bathroom scale isn't the best way to measure progress at the gym. Muscle weighs more than fat, so gaining the occasional pound or two can be a very good thing.
The
Skulpt Aim
helps you get a better handle on your fitness by tracking your body fat percentage and the muscle fiber size instead of your weight. It uses small electrodes to measure individual muscle groups and areas and relays the info to your phone, giving you an overall picture of where you're making progress and where you're not. The device even comes with an app that recommends exercises that are best for your body's unique composition.
The Skulpt Aim works with both Android and iOS device and is expect to start shipping in Fall 2014. You can
preorder yours at skulpt.me for $169.99
, which includes free shipping.
Test for STDs
This smartphone dongle or attachment performs the functions of a lab-based
blood test
—specifically, an enzyme-linked immunosorbent assay (ELISA)—to test for HIV antibodies and two types of syphilis antibodies. Researchers recently tested it in Rwanda in clinics that work to prevent mother-to-child-transmission and in voluntary counseling and testing centers. With an estimated manufacturing cost of $34 versus the $18,450 typical for ELISA equipment, this device could advance early diagnosis and treatment of these illnesses in developing countries.
Give you an instant eyeglass prescription
Smart Vision Labs
created the SVOne, a pocket-sized device that measures refractive errors in the eye and displays a digital eyeglass prescription via smart phone. The company founders envision it for use by doctors with multiple offices or limited space and to serve patients who struggle with traditional machinery or have difficulties with mobility. Where it could really shine, though, is in developing countries where millions lack eye care. The
World Health Organization
reports that some 90 percent of the world's visually impaired people live in low-income settings with no eye doctors available and that uncorrected refractive errors are the main cause of moderate and severe visual impairment globally.
Track your cholesterol
Engineers at Cornell University created the Smartphone Cholesterol Application for Rapid Diagnostics, or
smartCARD
, to test cholesterol levels. Users clamp the device, similar to a credit card reader, over the phone's camera then place a drop of blood, sweat or saliva on a test strip. Insert the strip into the device and
voila
, a built-in flash illuminates the strip and an app matches the image's color values and shows results on the phone. Currently, the test measures total cholesterol, but the lab is working on measuring LDL ("bad" cholesterol), HDL ("good" cholesterol) and triglycerides, as well as vitamin D levels. This app might make you re-think that double cheeseburger, eventually.
Assess your mental health
Dartmouth University researchers built an Android app that knows the smartphone owner's
state of mind
. The app automatically measures sleep duration, number and length of conversations per day, physical activity, locations and time spent there, stress level, eating habits and more—24/7 and without user interaction. Computational method and machine learning algorithms on the phone then assess that data and make higher-level inferences about sleep, sociability, activity, and other behaviors. When 48 students carried phones with the app during a 10-week term, the data significantly correlated with their mental health and academic performance. The app potentially could be used to provide real-time feedback on campus safety and stress levels, identify students at risk, and assess the quality of teaching. It could also be used to monitor mental health, trigger intervention, and improve productivity in the workplace as well.
Help keep you sober
The Addiction-Comprehensive Health Enhancement Support System
smartphone app
, designed for patients with alcohol use disorder, provides audio-guided relaxation and sounds an alert if individuals stray near a high-risk location, such as a bar they previously frequented. Patients leaving residential treatment who used the app reported an average of 1.37 fewer risky drinking days—meaning more than four standard drinks for men and three for women in a two-hour period—than those not using the app. Patients using the app also were more likely to consistently abstain from alcohol.
Alert you that the milk is spoiled
Researchers at MIT developed
sensors
that can be read by a smartphone to detect ammonia, hydrogen peroxide, cyclohexanone, and other gases. In the future, it could be used to monitor public spaces for explosives and other harmful chemicals, identify environmental pollutants, or detect food spoilage in warehouses. The sensors also could be used in "smart packaging" that detects spoilage or contamination in the foods you buy. Your next phone message could be from that old milk carton in the refrigerator.
Improve your hearing aid
This smartphone app could help improve the quality of life of people who use
hearing assistive devices
, including hearing aids, cochlear implants, and personal sound amplifiers. To remain small and low-cost, these devices typically use not-so-powerful processors. Smartphones, on the other hand, have powerful processors, large memories, microphones, speakers, wireless technology and long-lasting batteries, which can improve the performance of hearing assistive devices. For example, a smartphone could run sophisticated algorithms to distinguish background noise signals and enhance speech.